Celebrating Family ~ 9 days / 8 nights
The Sacred Valley, Cusco & Machu Picchu
Specific Tour Information Links: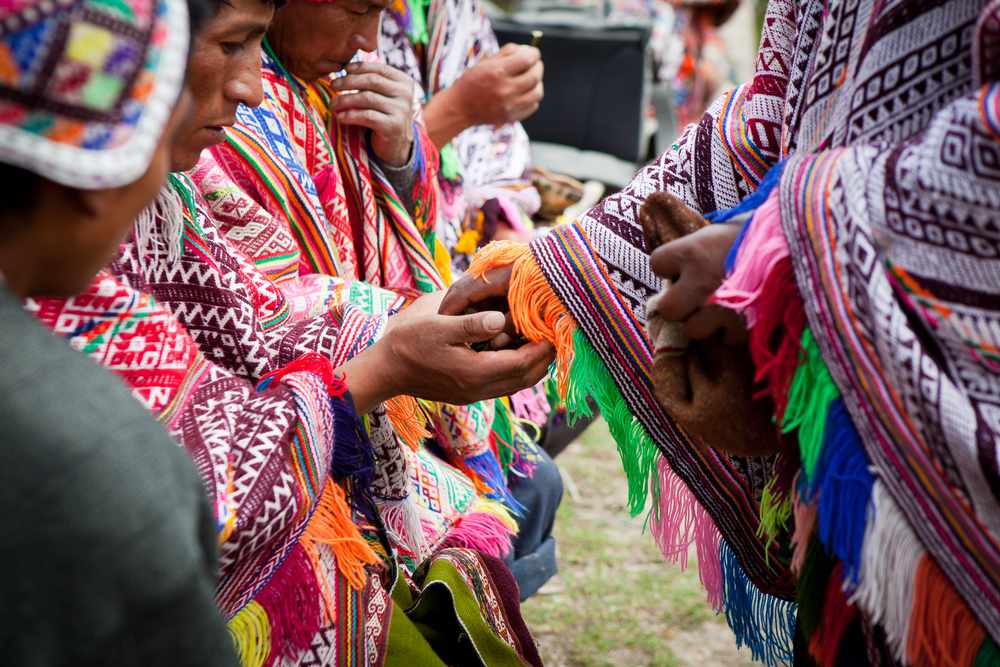 Peru provides the ideal setting connecting your family with nature, culture and each other. Bond not only with each other but also with the local community and help conserve endangered traditions. Prepare for an amazing and profound family adventure that deepens family appreciation and ties.
Peru… a child loving country. The whole culture revolves around children and family life. No exclusion of children here. They are the magic and essence. The seeds of our future. Celebrated and honored as important beings. Gentle kindness. Affection. The practice of ancient beliefs: to be raised and to let one be raised.
The great importance of exposing our universal youth to different perspectives and ways of living enhances our ability as humans to confront global concerns with a broad and fresh vision that is often limited due to lack of exposure. Peru Cultural Journeys provides a comfortable, relaxed and safe means to reach these goals by creating a bridge between cultures, which allows all involved to broaden horizons and connect on a human level.
Sacred Valley Highlights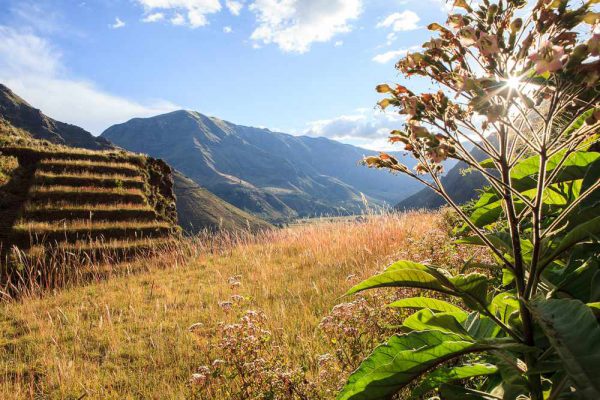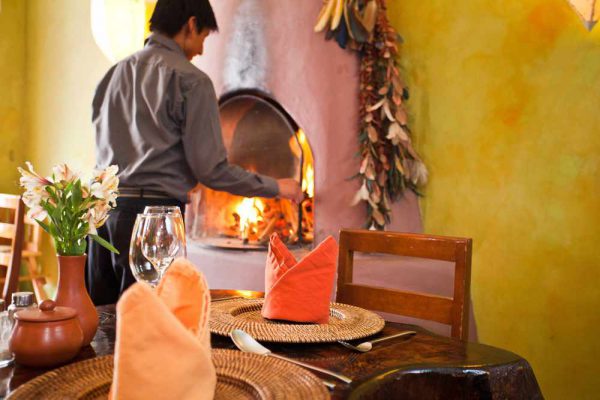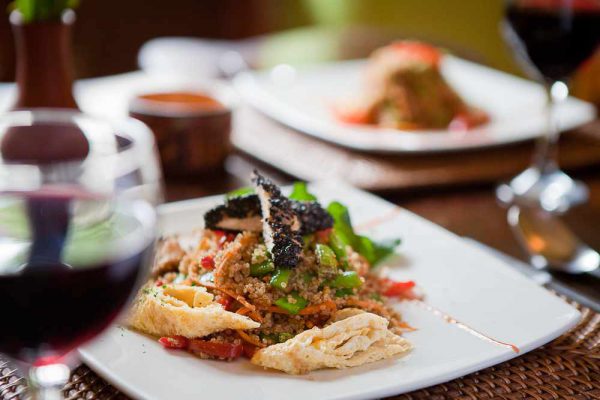 Trip Highlights:
Relish in a travel experience that engages parents and children in the spirit of celebrating and honoring family.
Itinerary and activities are woven in a way that allows both children and parents to delve into the magic of this culture, exploring the beauty together.
Experience the Sacred Valley of the Incas stepping back in time, visiting its finest archeological sites, picturesque villages and colorful markets.
Savor exquisite Peruvian cuisine
Spend quality time, stay at Pisac Inn, and settle into your room in the quaint town of Pisac for the duration of your stay. No packing and unpacking allowing true interaction to naturally evolve. Children feel settled, at home & welcome.
The small town of Pisac is safe and child friendly. They can engage in free play on the plaza right out the front door.
Interact with local families: parents share insights on cross-cultural parenting concerns. "Doors open into a world that would never have been seen otherwise." Parents & children alike make new friends.
Visit a traditional community and participate in their communal workday ~ a cultural exchange that deepens the appreciation of Quechua history and social life.
A rare opportunity for authentic social interaction, personal comfort, cultural participation & family bonding while visiting rural Peru.
A great opportunity to appreciate a culture that still conserves intact family dynamics, which are endangered in many places of the world.
Marvel together at Machu Picchu, one of the new 7 wonders.
Visit Cusco, capital of the vast Inca State, navel of the ancestral world.
Opportunity to join in our commitment in the diffusion, protection and celebration of the endangered Andean traditions and cultural heritage. Traveling with Peru Cultural Journeys directly supports essential educational, cultural and social work.
Children cultural surprise kit.
Enrich your life. Expand your horizons.
View Itinerary
Celebrating Family Sample Itinerary
Day one / Thursday
Arrival Sacred Valley
Arrival at Cusco airport where you will be greeted by your personal guide and begin your private family journey. Enjoy the impressive natural beauty on a 45 minute drive to the Sacred Valley and Pisac Inn. Meet the warm and attentive satff of Pisac Inn and setlle into the rooms that will be yours for your entire stay. Relax with a cup of coca tea as you unwind from your travels. Savor a special welcoming lunch, the first of a series of amazing meals designed in a set menu just for you and your family so that you may fully explore the wealth of Peruvian cuisine. Take the afternoon to rest and acclimate at leisure in preparation for the following days full of exciting events and activities. Gather in the eraly evening for a brief reception orioentaion with a welcoming pisco sour, followed by a quiet fireside dinner.
Hotel: Pisac Inn Meals: L, D
Sacred Valley Highlights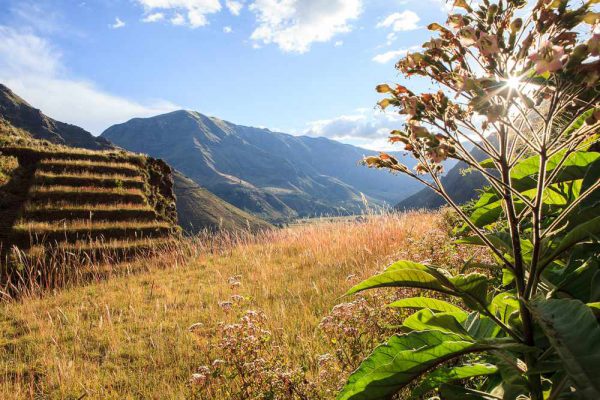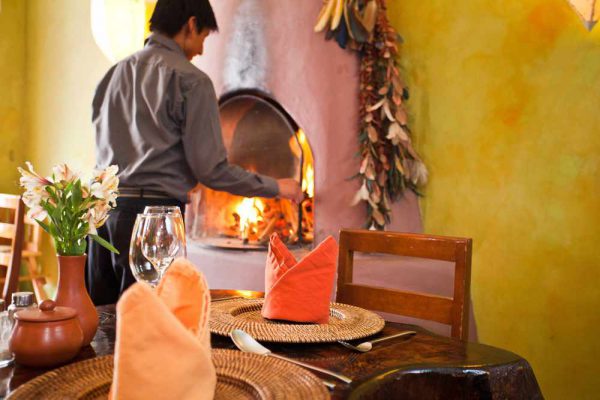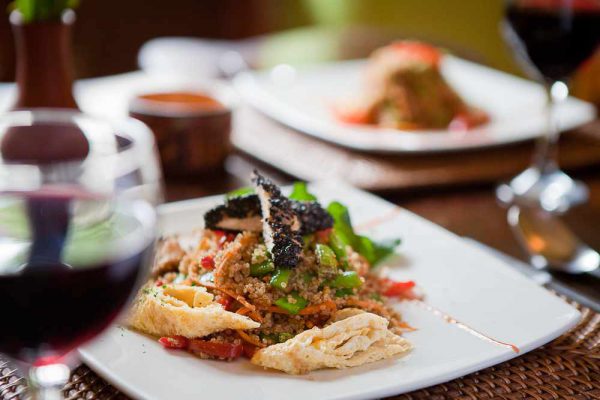 ---
Day two / Friday
Cusco Archeological Sites
After a nutritious breakfast, enjoy a leisurely 30 minute drive to visit the ancient sites outside of Cusco including the baths of Tambomachay, the astronomic observatory Kenko and calendar of Sacsayhuaman. All ages will be captivated by the introduction to Andean astronomy and sacred geometry, the foundation of Andean culture that will be expanded on each day of your journey. At Sacsayhuaman, refresh with a selection of exotic fruit, and enjoy free time to play at a natural rock slide and to explore the ancient tunnels. Continue on to Cusco to have lunch at a fine restaurant, or a local spot recommended by your guide. Upon return to Pisac Inn enjoy a few free hours to rest and contemplate, or indulge in an herbal bath and massage at *Unucha Spa. You can make an appointment ahead of time for any afternoon after your excursion. Children may enjoy playing on the plaza. Dinner is followed by festive traditional music and dance with Wiñay Taki Ayllu, a local group of musicians, artists and visionaries who have dedicated their lives to preserving their Andean culture.
Hotel: Pisac Inn Meals: B, D (lunch not included) (spa treatments not included)
Hotel: Pisac Inn Meals: B, D (lunch not included)
Cusco City and Archaeological Highlights
---
Day three / Saturday
Pisac Archeological Site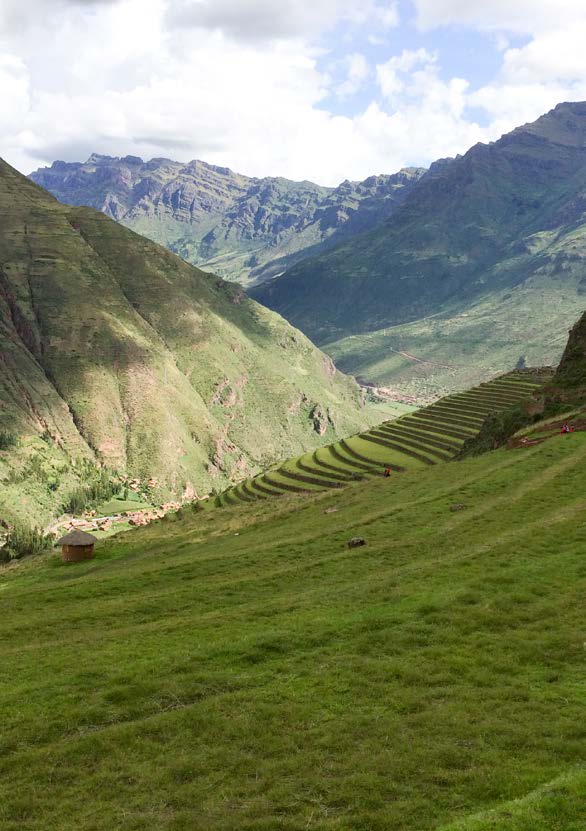 Drive to Pisac archeological site where the staggering agricultural terrace work is among the most extensive in the area, following the shape of the mountainsides in entrancing concave and convex forms. The central astronomic observatory and ceremonial area is widely acclaimed as some of the finest stonework, comparable to that of Machu Picchu. This expansive site provides an ideal setting for a pic nic lunch with magnificent vistas up and down the valley. Embark upon a breathtaking walk down to Pisac and enjoy an afternoon at leisure. After dinner, partake in an optional informal dialoge with local parents, sharing insights on American and Quechua parenting while children enjoy some free time to play.
Hotel: Pisac Inn Meals: B, L, D
Pisac Highlights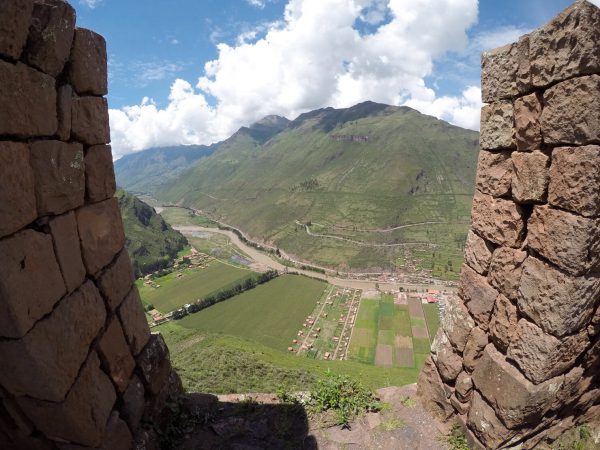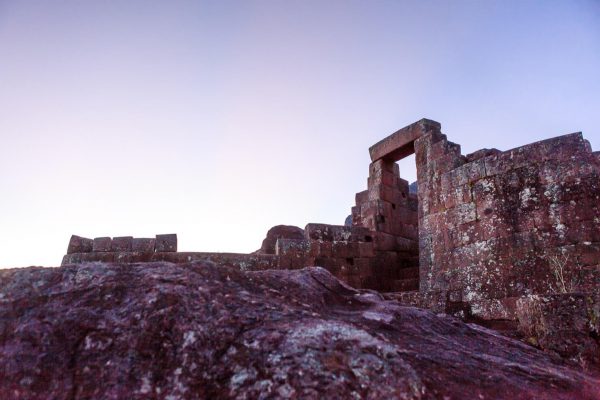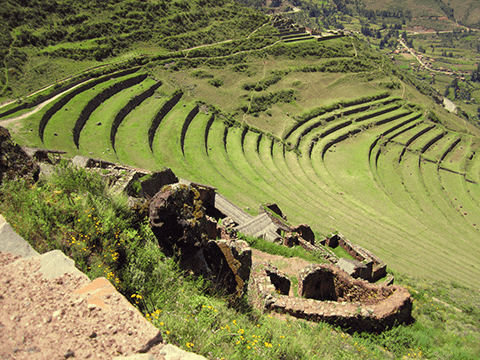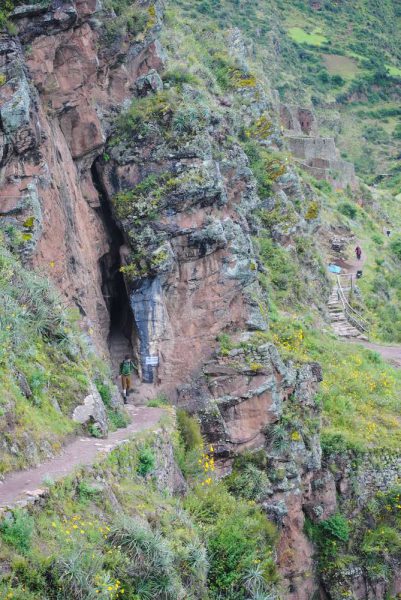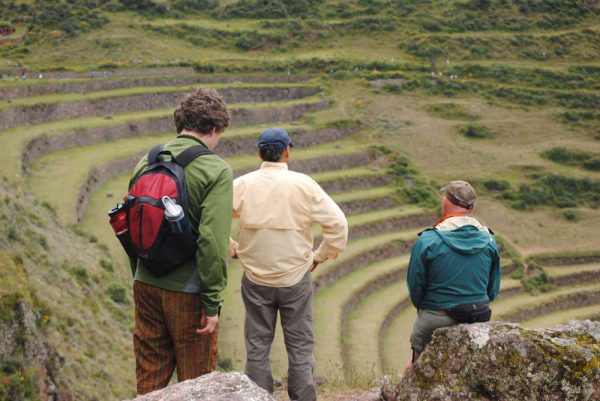 ---
Day four / Sunday
Pisac Market


Shopping day at Pisac's colorful Traditional Indian Market. Morning at leisure before gathering to explore the traditional food section where locals buy and trade their produce and admire the beautiful faces and calm excitement that transforms Pisac. Pizza lunch at Pisac Inn. Afternoon free to explore the market at leisure. Wonderful opportunity to buy woven goods, sweaters and jewelry. Evening storytelling. Dinner followed by an evening of storytelling.
Hotel: Pisac Inn Meals: B, L, D
---
Day five / Monday
Community of Amaru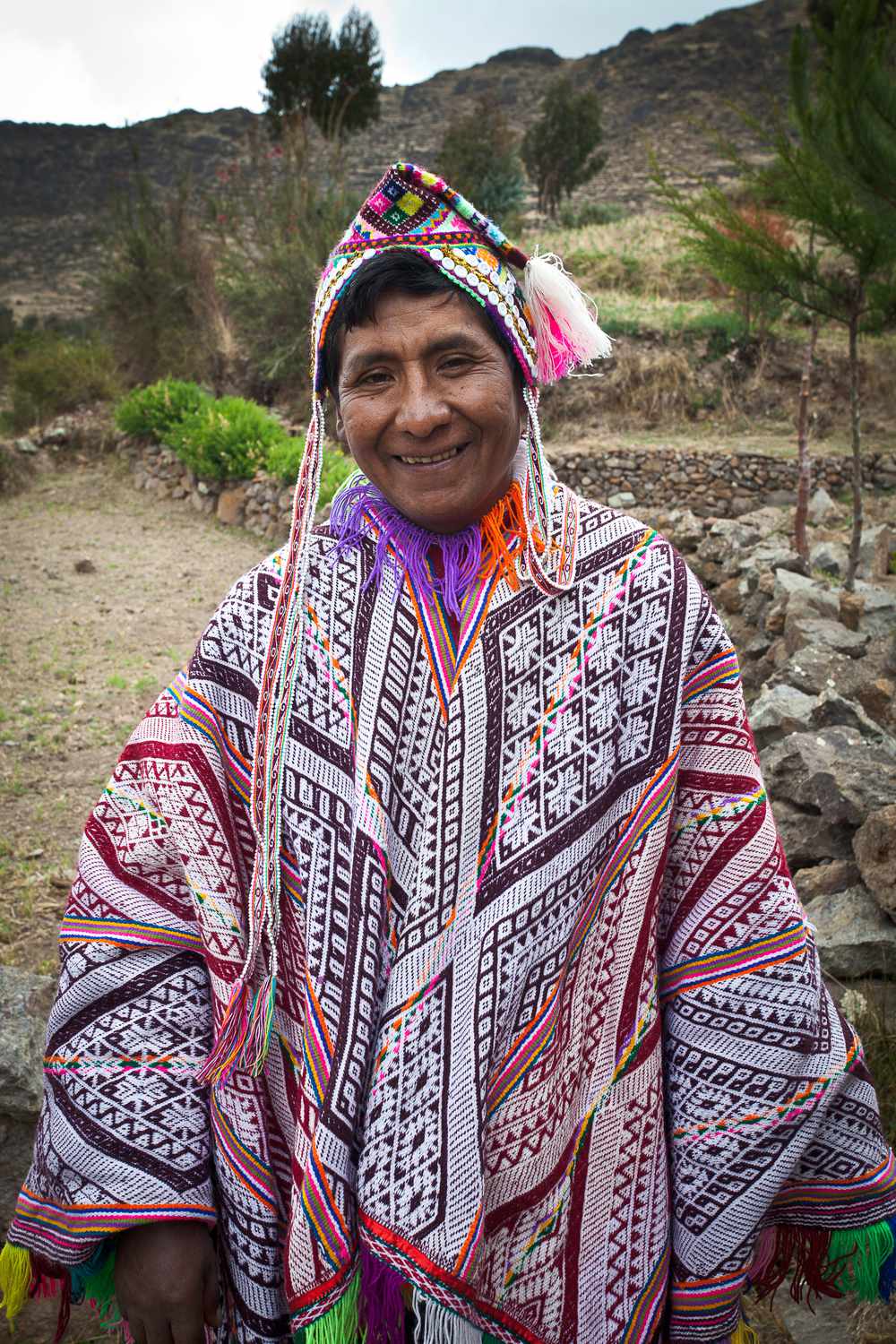 Delight in a 45-minute drive into the majestic high Andes and walk through the patchwork fields replete with potatoes, fava beans and corn to the traditional highland community of Amaru, where a genuinely authentic way of life is still practiced to this day. You will be welcomed with an endearing sweetness rarely felt in this day and age by this community that is consciously preserving and practicing their ancestral heritage. Through participation in a communal workday a beautiful cultural exchange unravels as you experience this incredible opportunity to step back in time and appreciate a quality of life with an admirable simplicity that is strikingly moving and profound. Enjoy a traditional lunch prepared with their prized agrarian products as the women begin to spin their naturally dyed wool. Others meditatively set up their back strap looms to share their ancestral weaving skills with us. This wonderful opportunity to purchase textiles directly from the weavers is not to be missed. Return to Pisac for some down time before dinner.
Hotel: Pisac Inn Meals: B, L, D
Amaru Community Highlights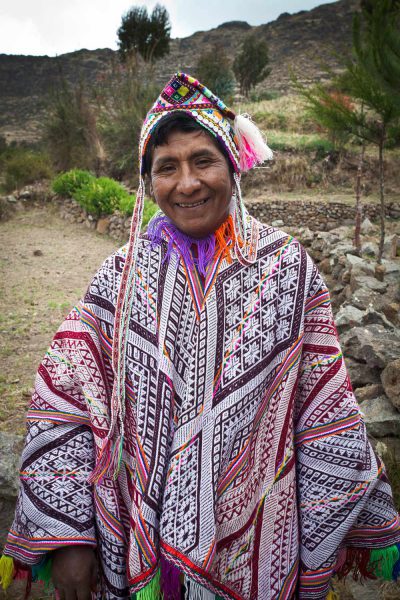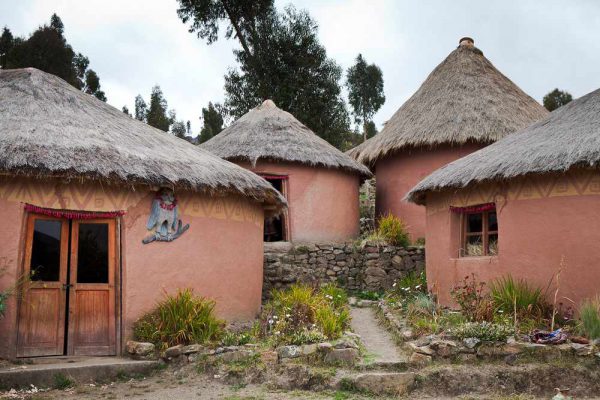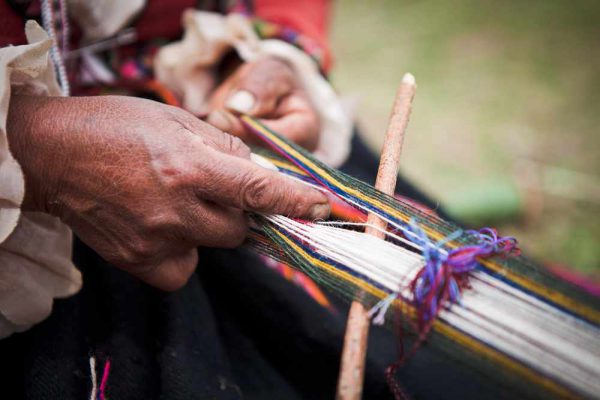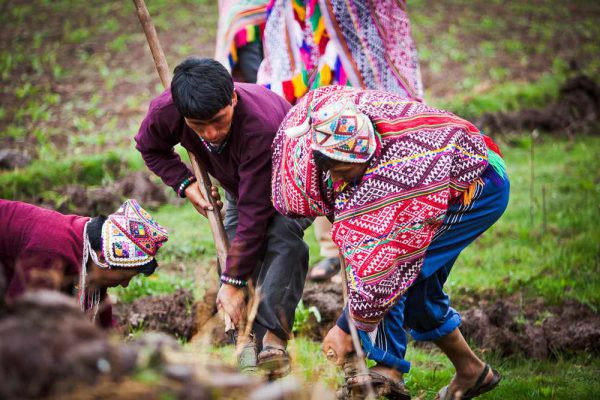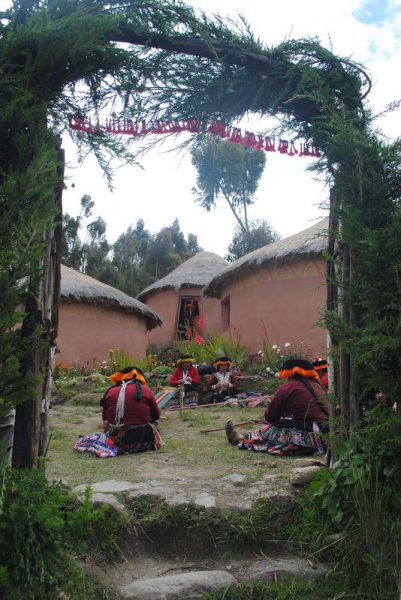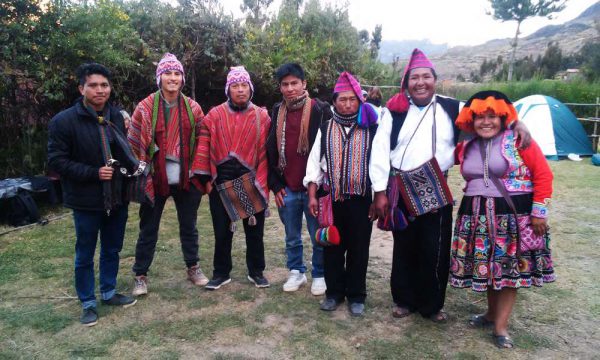 ---
Day six / Tuesday
Ollantaytambo
Begin your day with a nutritious breakfast of rainforest fruits and Andean grains to start a breathtaking one-hour drive through the heart of the Sacred Valley to the Inca town Ollantaytambo. Visit Ollantaytambo's magnificent archeological site, learn about the Llama constellation and explore the town that was built in the shape of a corncob. After lunch enjoy a spectacular two hour train ride to Aguas Calientes, where you will spend the night in preparation for an early start to Machu Picchu the following morning.
Hotel: La Cabaña Boutique Hotel Meals: B, L (dinner not included)
Ollantaytambo Highlights
---
Day seven / Wednesday
Machu Picchu
Get an early start to take the 20 min bus ride up to Machu Picchu. Upon arrival participate in a guided tour of the most important sectors of Machu Picchu, and following a picnic lunch surrounded by natural beauty and ancient ruins, spend a few hours to sit and reflect on your own. Take bus down to Aguas Calientes, catch the afternoon train to Ollantaytambo and drive back to Pisac. A light dinner awaits upon your return to Pisac Inn.
Hotel: Pisac Inn Meals: B, D (lunch not included)
Machu Picchu Highlights
---
Day eight / Thursday
Cusco City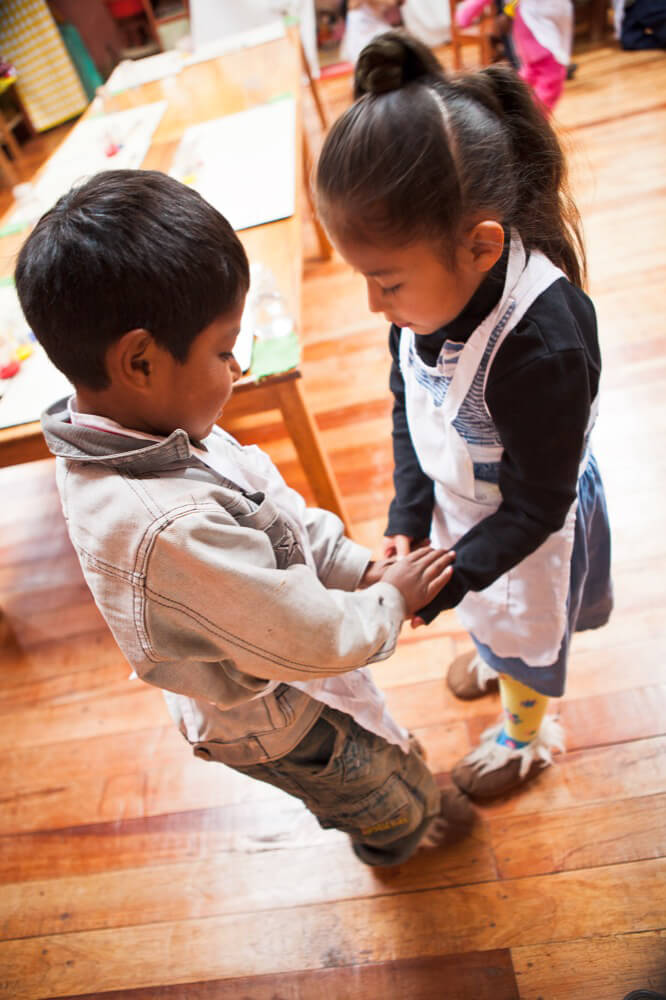 Visit Kusi Kawsay School, an exceptional educational social project. After learning about the unique vision of Kusi Kawsay that combines Waldorf Pedagogy with Andean tradition, delight in the beautiful school grounds, dedicated teachers and happy children. Option: Lunch at Pisac Inn and free afternoon. Or option: Spend the afternoon strolling the streets of Cusco, admire the Inca walls, visit the Plaza de Armas and the main pre-Colombian Inca Temple, Coricancha. Have a relaxing lunch out on the town in a fine restaurant recommended by your guide. A few free hours for shopping at boutiques that feature high quality alpaca in contemporary designs. Enjoy your farewell dinner in Pisac.
Hotel: Pisac Inn Meals: B, D (lunch not included)
Kusi Kawsay, Kusi Ñan and Cusco Highlights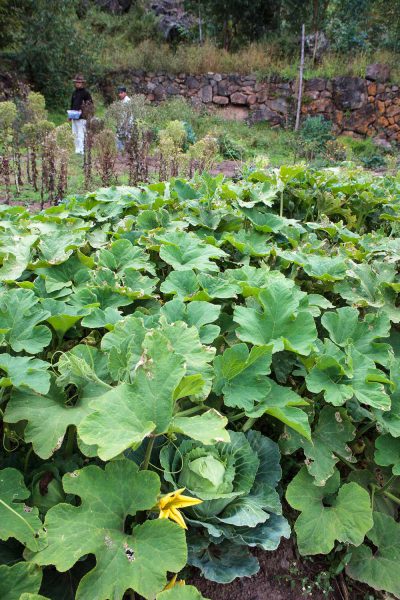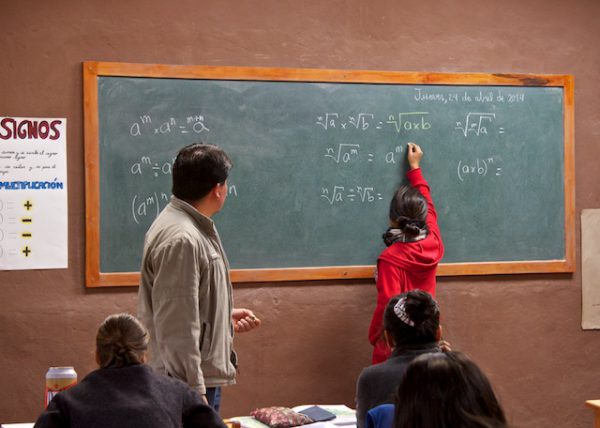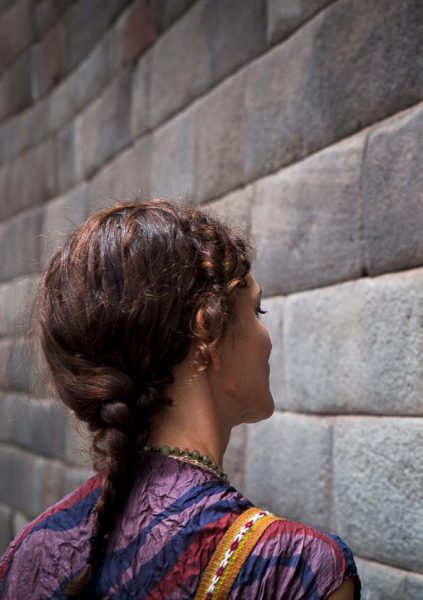 ---
Day nine / Friday
Departure

Enjoy breakfast before leaving for the Cusco airport. Meals: B
The order of your itinerary will change depending on the day you arrive.
Useful Information
Useful Information
Destinations: The Sacred Valley, Cusco & Machu Picchu
Description: High altitude, mountainous terrain. Easy driving tours and day hikes.
Altitudes: Cusco 11,200 ft, Pisac 10,000 ft, Machu Picchu 7,500 ft, Amaru 10,500 ft
Length: 9 Days / 8 Nights
Difficulty: Easygoing / Moderate
Category: Boutique (3 star level)
Journey Series: Our Signature Journey
Available: Small group or private
Season: All year
Pace: Moderate, with time for relaxation
Interests: Cultural & Culinary, Andean heritage, spirituality & world view, Sacred geomotry, astronomy & agronomy
Accomodations: This trip is based out of Pisac Inn. Small and comfortable, this boutique hotel is charming, full of artistic detials and old world flair that celebrate the depth and richness of local Andean heritage.
A hotel upgrade is possible for part of the trip or for the whole trip.
Meals: This trip includes meals with exclusive daily set menus that are creatively spun by our chef. All of the meals are prepared using the finest local products with the clear intention of exploring the richness of Peruvian cuisine. The diversity of legendary and nutritious ingredients used in our meal preprations are fresh, organic and native of Peru.
Sitting down for a lovely meal, including a soup or salad, main course, dessert and beverage, is one of our trip highlights, with no dish repeated. We love food, and invite you to savor Peru's culinary explosion.
Vegetarian and special diet menu available.
Beer, wine and cocktails are available, but are not included in tour price.
Don't miss the famous Pisco Sour, it is delightful.
The few meals not included in your program will be eaten out at restaurants recomemnded by your guide.