Choquequirao Trek ~ 9 days / 8 nights
The Sacred Valley, Cusco & Choquequirao

Send this page to a friend: Email this Page
Specific Tour Information Links:
This beautifully woven combination of classic destinations, cuisine and special events offers the opportunity to experience and authentically engage in a cultured Indigenous point-of-view.
Walk the ancient Incan pathway to Choquequirao, through pristine nature to a spectacular Incan site that can only be reached by hiking. Experience varied altitudes and weather, with beautifully contrasting landscapes full of diverse flora and fauna, and explore the mysteries of a remarkable archeological site not many have encountered.
Savor the ambiance of the Sacred Valley, find yourself surrounded by breathtaking scenery and begin your exploration of the Inca legacy through our Quechua descendants. Visit ancient sites, colorful markets, and partake in an ancient living culture rooted in agriculture. Immerse yourself in the spirit of this Inca land. Discover the profoundly elegant simplicity of Andean people and celebrate our customs, cuisine, music and dance. Admire our arts. Delve into our philosophy; understand our history and way of life.
Walk our ancient pathways. Enrich your perspective. Confirm human quintessence.
Recommended for a profound unforgettable cultural immersion that enhances the spirit.
Choquequirao Highlights
Trip Highlights:
Engage in this rare opportunity for authentic social interaction, personal comfort and cultural participation while visiting rural Peru.
Experience the Sacred Valley of the Incas stepping back in time, visiting its finest archeological sites, picturesque villages and colorful markets.
Savor exquisite Peruvian cuisine rooted in ancient agriculture.
Stay at charming Pisac Inn, situated on the main plaza of Pisac ~ settle into your room in the quaint little town in the Sacred Valley for the duration of your stay. No packing and unpacking.
Absorb small town life in the Sacred Valley.
Enjoy daily excursions with in depth, educational stories and explanations by local native guides with our indigenous voice.
Visit a traditional community and participate in their communal workday for a cultural exchange that deepens the appreciation of Quechua history and social life.
Walk the ancient pathways to mysterious Choquequirao for a remarkable trek off the beaten path.
Explore Cusco, capital of the vast Inca State, navel of the ancestral world.
Join in our commitment in the preservation, protection and celebration of endangered Andean traditions and cultural heritage. Traveling with us directly supports sustainable tourism.
Enrich your life. Expand your horizons.
The Sacred Valley of the Incas surrounded by magnificent mountain Apus, extended fields replete with crops and the stunning Wilkamayu river running through this fertile valley's heart. Where sacred corn grows and iridescent hummingbirds emanate their joy. Pisac offers a pleasant climate and the enchantment of a colorful small town with cobblestone streets and friendly faces. The Andes… snow peaks soaring in the distance over charming communities, Inca sites, and quaint village markets. Delve into this journey full of pre-Columbian reflections. Pristine nature. Blossoming fuchsia and kantu flowers that entice. A profound heritage wrapped in layers of colorfully elegant wisdom and contemporary sophistication. The inspiration of authentic Peruvian hospitality.
View Itinerary
Choquequirao Itinerary
Day one / MONDAY, MAY 13
Arrival Sacred Valley
Take a spectacular morning flight to Cusco, "the navel of the world", land in the heart of the Andes and be greeted at the Cusco airport to begin your exclusive journey. Enjoy a stunning one-hour scenic drive to the Sacred Valley of the Incas. Revel in the striking beauty of the snow topped peaks, mountainsides delineated by Inca terraces, and fields that cover the valley floor. Arrive to Pisac with lower altitude and small town charm. Settle into your room at Pisac Inn and enjoy a cup of coca tea to help you acclimate. Savor your first in a series of delicious meals spun into a select set menu prepared by the Inn's Restaurant, Cuchara de Palo so you may explore the diversity and richness of Peru's ancient agrarian heritage. Take the afternoon to rest or explore the cobblestone streets of Pisac on your own.
Gather for an orientation reception with a welcoming Pisco Sour followed by a fireside dinner.
Hotel: Pisac Inn Meals: L, D
Sacred Valley Highlights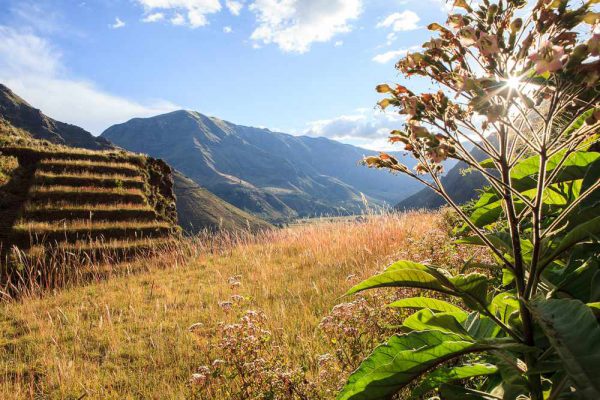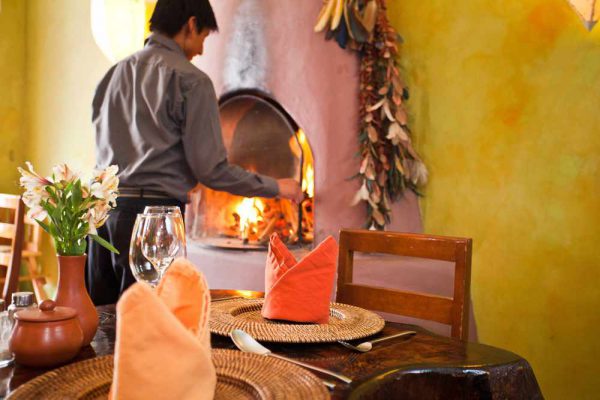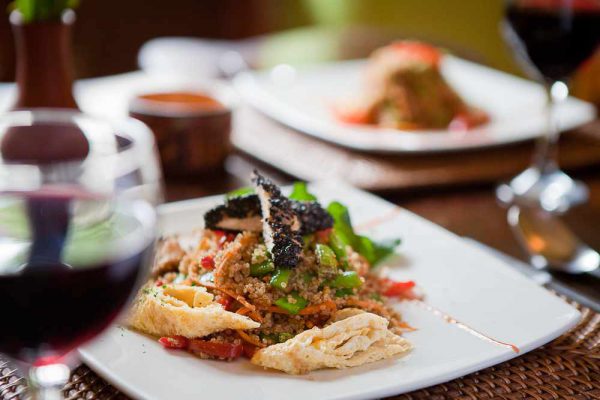 ---
Day two / TUESDAY, MAY 14
Cusco Archeological Sites
After breakfast enjoy a 30-minute scenic drive to explore pre-Columbian sites outside of Cusco including the sacred spring of Tambomachay, and the lunar and solar observatories of Kenko.  Hike along Qhapaq Ñan, an ancestral pathway, to Sacsayhuaman whose zigzag walls are built with some of the largest stones to be found in Inca masonry. You will be captivated by the introduction to Andean astronomy and sacred geometry, the foundation of Andean culture that will be expanded on each day of your journey. Enjoy lunch at one of Cusco's fine restaurant recommended by your guide, and return to Pisac for a quite afternoon.
Dinner followed by festive traditional music and dance with Wiñay Taki Ayllu, a local group of musicians, artists and visionaries dedicating their lives to preserving their Andean culture. This remarkable presentation follows the Andean Agrarian Ritual calendar.  Enjoy this evening full of music, dance, in depth explanations, the sharing of stories; and connect to the natural cosmic cycles of the Andes.
Hotel: Pisac Inn Meals: B, D (lunch not included)
Cusco City and Archaeological Highlights
---
Day three / WEDNESDAY, MAY 15
Pisac Archeological Site & Market
In preparation for your trek, hike to the spectacular archeological site above Pisac with staggering agricultural terrace work among the most extensive in the area following the shape of the mountainsides in entrancing concave and convex forms. The central astronomic and ceremonial area is widely acclaimed as some of the finest stonework, comparable to that of Machu Picchu. This expansive site provides an ideal setting for a picnic lunch with magnificent vistas up and down the valley. Embark upon a breathtaking walk down to the town of Pisac and enjoy the afternoon exploring Pisac's colorful Traditional Indian Market. Visit the traditional food section where locals buy and trade their produce and admire the beautiful faces and calm excitement that transforms Pisac. This is a wonderful opportunity to buy gifts to take home with you.
Enjoy a sunset stroll along the cornfields or simply relax with a Pisco Sour as you people watch either at the sidewalk café or on the balcony before dinner.
Hotel: Pisac Inn Meals: B, Picnic, D
Pisac Highlights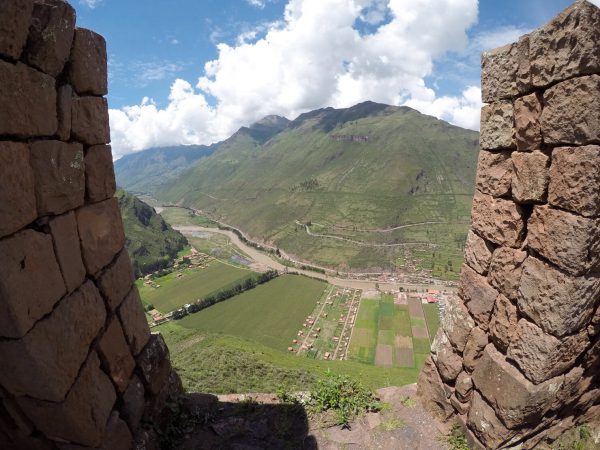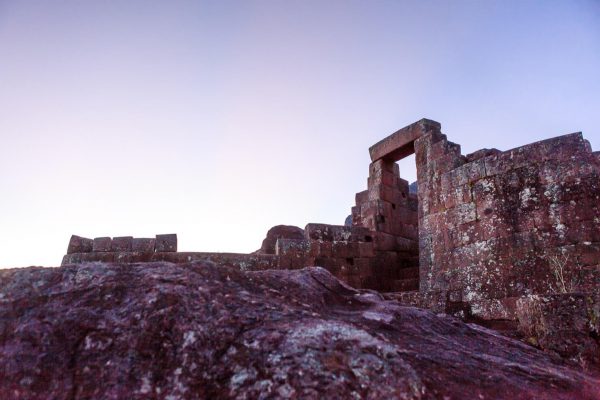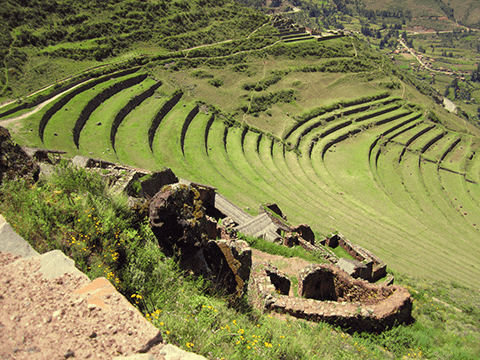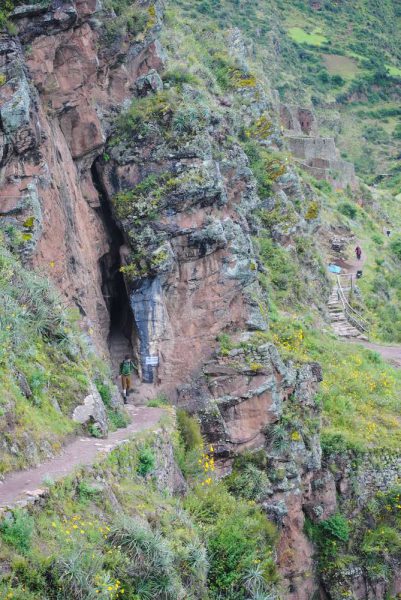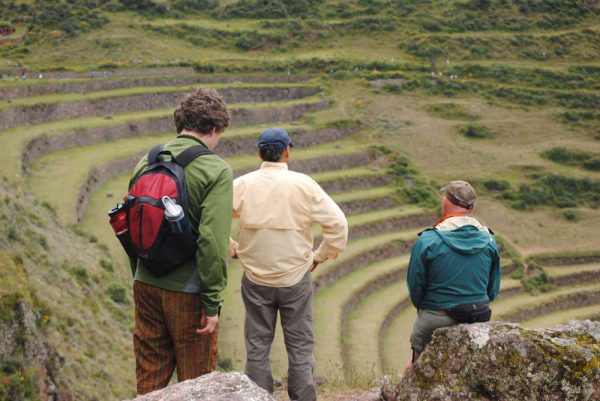 ---
Day four / THURSDAY, MAY 16
Community of Amaru

Delight in a 45-minute drive into the majestic high Andes and hike through the patchwork fields replete with potatoes, fava beans and corn to the traditional highland community of Amaru, where a genuinely authentic way of life is still practiced to this day. You will be welcomed with an endearing sweetness rarely felt in this day and age by this community that is consciously preserving and practicing their ancestral heritage. Through participation in a communal agrarian workday a beautiful cultural exchange unravels as you experience this incredible opportunity to step back in time and appreciate a quality of life with an admirable simplicity that is strikingly moving and profound. Enjoy a traditional lunch prepared with their prized agrarian products as the women begin to spin their naturally dyed wool. Others meditatively set up their back strap looms to share their ancestral weaving skills with us. This wonderful opportunity to purchase textiles directly from the weavers is not to be missed. Hike back to the car to return to Pisac and enjoy a quite evening with dinner.
Hotel: Pisac Inn Meals: B, L, D
Amaru Highlights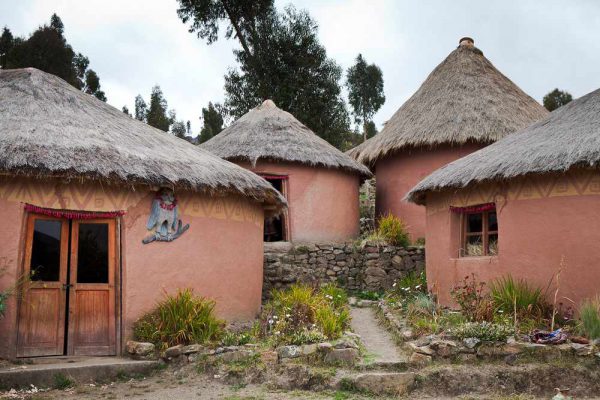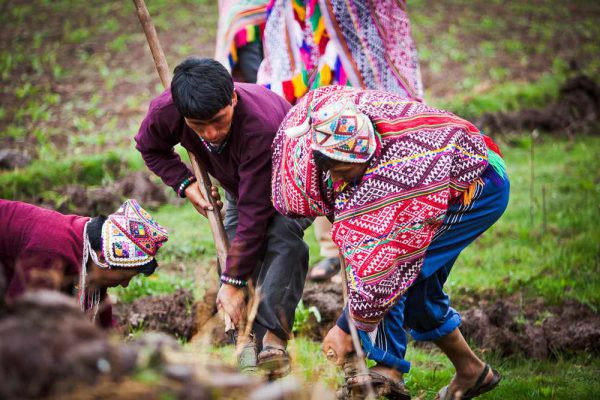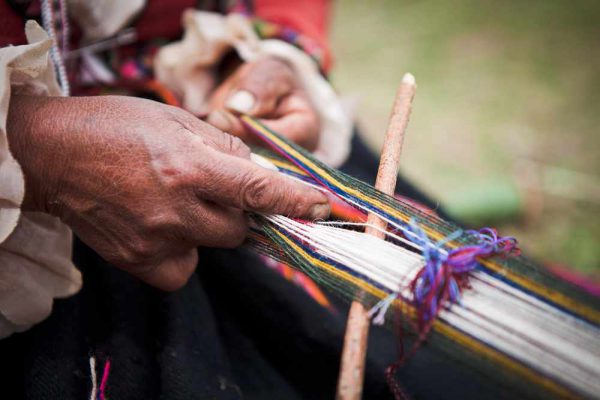 ---
Day five / FRIDAY, MAY 17
Choquequirao Trek – PISAC– CACHORA – ROSALINA
Your Choquequirao guide picks you up for an early start. Drive towards Cachora via Abancay, passing through Izcuchaca, Limatambo and Curawasi. Upon arrival at Cachora you begin walking at around 9 am heading towards Wanka Qalli Grande. From here you can see the mountain where Choquequirao is located, as well as spectacular views of the Vilcabamba and Salcantay Chico snow peaks, among others from the sector of Capuliyuq. You then descend towards Cuca Masana, where the fauna and flora begins to change, to Playa Rosalina where you camp for the night.
Camping Meals: B, L, D
---
Day six / SATURDAY, MAY 18
Choquequirao Trek ROSALINA – SANTA ROSA – MARAMPATA – CHOQUEQUIRAO
After breakfast head towards Santa Rosa. This is considered the most difficult ascent of the trek. Continue towards Marampata where you will and see beautiful orchids and violets. If you are lucky you may see deer, anteaters, and a great diversity of birds and insects. After lunch and a rest in Marampata continue towards the Inca Citadel of Choquequirao. After an hour and a half of walking, arrive to Choquequirao and visit the sectors known as Phaqchayuq and Pariaq Qaqa. Ascend to the campsite.
Camping Meals: B, L, D
---
Day seven / SUNDAY, MAY 19
Choquequirao Trek CHOQUEQUIRAO- SANTA ROSA – CHIQUISCA
After an early breakfast ascend one of the most important parts of Choquequirao considered as the main sectors known as Hanan, Urin and the Ushunu and the Llama sectors. Then return to the campsite for lunch and rest before descending the same path towards Ch'iquisca, our last campsite.
Camping Meals: B, L, D
---
Day eight / MONDAY, MAY 20
Choquequirao Trek CH'IQUISCA – CAPULIYUC – CACHORA – PISAC
After breakfast in Ch'iquisca, we begin the ascent towards the lookout of Wayna Qalli. From this outlook we can view the canyon formed by the river Apurimac, considered the most spectacular of South America. Arriving at Cachora a typical lunch awaits and you begin your return drive to Pisac. After such an expedition, returning to Pisac Inn feels like coming home. Wander through Pisac as the daily market is broken down for some last minute gifts, and relax before your farewell dinner.
Hotel: Pisac Inn Meals: B, L, D
---
Day nine / TUESDAY, MAY 21
Departure
Transfer to Cusco airport after breakfast. Enjoy a day exploring Cusco on your own if you have an afternoon or early evening flight out of Cusco. Those joining the Lake Titicaca Extension leave for Puno after breakfast.
Meals: B
Useful Information
Useful Information
Destinations: The Sacred Valley, Cusco, & Choquequirao
Description: High altitude, mountainous terrain with hiking & trekking
Altitudes: Cusco 11,200 ft, Pisac 10,000 ft, Amaru 10,500 ft, Cachora 2,800 ft – Playa Rosalina 2,000 ft – Choquequirao 2,800 ft – Ch'iquisca 2,000 ft
Length: 9 days / 8 nights
Difficulty: Intermediate to Difficult
Category: Boutique (3 star level)
Journey Series: Trekking Series
Available: Small group or private
Season: All year (Trekking is not recommended in rainy season, January & February)
Pace: Moderate, with time for relaxation
Interests: Hiking & trekking, Cultural & Culinary, Andean heritage & worldview, Sacred geometry, astronomy & agronomy
Dates: We specialize in weaving dream journeys with our guests; therefore we do not have set dates unless it is an organized Special Interest small group. Please contact us directly to check availability and coordinate dates.
Accommodations: This trip is based out of Pisac Inn on the historic plaza of the small town of Pisac in the Sacred Valley of the Incas. Small and comfortable, our boutique hotel is charming, full of artistic details that celebrate our local Andean heritage. Settle into your room for the duration of your stay, no packing and unpacking allows you to create a personal relationship to the land and the people.
A hotel upgrade is possible for part of the trip.
Meals: This trip includes meals with exclusive daily set menus that are creatively designed and prepared by our chef at the hotel's restaurant, Cuchara de Palo, The Wooden Spoon. We use the finest local products with the clear intention of exploring the richness of Peruvian cuisine, while celebrating the diversity of legendary and nutritious ingredients that are fresh, organic and native of Peru.
Sitting down for a lovely meal, including a soup or salad, main course, dessert and beverage, is one of our trip highlights, with no dish repeated. We love food, and invite you to savor Peru's culinary explosion.
Vegetarian and special diet menu's are available.
Beer, wine and cocktails are available, but are not included in price.
The few meals not included in your program will be eaten out at restaurants recommended by your guide.
Unucha Spa Treatments: Upon return to Pisac Inn after your daily excursions, you can spend the afternoon relaxing, exploring the market, or enjoy a treatment at our Spa before dinner. The treatments are inspired by the ancestral legacy of our pre-Columbian healing tradition. We recommend the herbal bath and massage combo. Reservations are required; space is limited and treatments are not included. Please make appointments ahead of time for any afternoon.
Peru Cultural Journeys: Please see our Sustainability Section to learn more about our vision, our commitment to socially and environmentally responsible tourism, our cultural projects, and our recent international certifications with TourCert and AENOR.
Extensions: Add on extensions if you want to explore more areas of Peru.
Travel Information: Click here for information on flights, passport, visa, & immunizations.
Frequently Asked Questions (FAQ): Please see our FAQ section for more information.
Once you book the trip and make a down payment, we will send you a complete Travel Pack with detailed information, including reading and packing lists.
Prices
Choquequirao Trek Prices
Prices are in US Dollars per person for a minimum of 8 passengers
Look for our Early Bird Booking
Private and customized trip prices available upon request
Pricing according to number of travelers and time of year
May 13 – 21, 2019
Full price: $2,360
Early bird: $2,150 (before January 14, 2019)
$800 deposit required to reserve your spot, which is not refundable after February 11, 2019.
Before February 11 deposits can be refunded less a $300 registration fee.
Full payment is required by April 1, 2019.
Prices are based on double occupancy. For single occupancy, add an additional $220.
Included:
Airport transfers and all ground transportation upon arrival to Cusco airport in a private tourist level vehicle
Private, specialized, professional, English speaking native guides on excursions and special events
Entrance fees to all historical sites on daily excursions
Cultural events with local Andean specialists
Fresh, organic meals celebrating Peruvian cuisine in special set menus as on program
Charming accommodations at Pisac Inn 5 nights, standard double occupancy
Optional visit to our social projects; the Kusi Kawsay Andean School & Kusi Ñan Organic Farm, exceptional educational projects that honor Andean tradition with elements of Waldorf pedagogy; day of visit to be determined depending on final itinerary.
Visit the Apu Runawana in the traditional community of Amaru
Choquequirao Trek 4D/3N with local, licensed outfitter and guide (see details below)
Camping 3 nights, standard double occupancy
Not Included:
Airfare, travel insurance, personal expenses, special events not included in program, spa treatments, any tips or donations, meals eaten out as indicated on program, and any snacks or beverages not included at mealtime.
The cost of our tour is in U.S. dollars per person.
Our small group sizes are minimum 8 & maximum 12 passengers; private groups can be any size, and will be priced accordingly.
Prices per person are based on double occupancy – a single room has an additional cost, upon availability.
You can customize your trip with add on special events, and extensions.
Taxes may apply.
Programs and prices are subject to change and availability, and may not be applicable on some dates and holiday seasons.
---
Detailed Information for Trek
Included:
Professional English/Spanish speaking guide
Double Occupancy tents
Camping Equipment: Bathroom tent, kitchen tent, dining tent, chairs, tables and comfortable mattresses
Porters to carry food, tents, and cooking gear, our porters do not carry the personal belongings of the clients, if you want a personal porter, there is an additional cost per porter (each porter can carry 12 kilos)
All meals
First aid kit / Oxygen
Hot water in the evening and morning for washing purposes, boiled water to fill in your water bottle
Not Included:
Porters to carry the personal belongings of the passengers
What you need to bring:
Personal Sleeping Bag
Backpack and Daypack
Hiking shoes or boots
Raincoat or poncho
Trekking poles if required
Water bottle (that can hold hot & cold water), flashlight, hat, sun block, sunglasses
Warm clothes & light clothes, for variable temperatures and drastic weather changes
Warm socks & warm hat
Snacks; energy bars, chocolate, dried fruit, nuts, trail mix
Insect repellent, tissue, hand wipes
Personal medications
Camera + Film/Video camera