About Our Journeys
Send this page to a friend:
Email this Page
Woven itineraries
We envision our tours as tapestries, artistically composed of excursions, cultural events, cuisine and worldview – interconnected to the fantastic landscape, ancient archeological sites and cultural continuum.
For the Quechua everything is related and bound: art, science, religion, social organization, and daily life. Our itineraries are carefully woven to celebrate the colorful layers and diverse elements of authentic Andean culture. From your accommodations to your meals to your destinations, each day offers multiple opportunities to engage in the sophisticated and gentle culture of this ancient region. Most importantly, the entire tour is composed from an indigenous point of view, thereby offering learning experiences and unforgettable memories that will enrich your life.
The journey you will embark upon with Peru Cultural Journeys is based on a traditional holistic approach wherein astronomy, geometry, geodesics, engineering, hydraulics, mythology, history, politics, artistic expressions, rituals, music, dance and spirituality are all tied together to master the art and science of agriculture — which comprises the essence of Andean culture.
Not the typical tour, Peru Cultural Journeys offers the insider version of authentic Peru. We maintain a high quality of excellence in our tours always respecting, honoring and celebrating the indigenous perspective. This allows for a richer voice than that of many conventional historical versions.
Ways to travel with Peru Cultural Journeys
Peru Cultural Journeys creates unique and educational travel experiences. Local Andean specialists guide you, while imparting their extensive knowledge of the region and its people. We combine these guided tours with diverse cultural events, which affords an authentic and in depth cultural immersion on all of our trips, whether you choose to join a small group journey, or create your own private journey or custom private journey.
Small Group Journeys
Join a small group of like-minded travelers with set dates and a set itinerary.
Private Journeys – exclusive, flexible
Create your own private group of family and friends, and travel on an existing Peru Cultural Journey itinerary. Enjoy the convenience of a pre-arranged itinerary with the intimacy of private travel.
Private travel allows for arrival and departure on the day of your choice, and features individual touches with more flexibility. We do our best to accommodate your personal interests with special amenities within the framework of a set itinerary.
Custom Private Journeys – exclusive, completely customized
Tailor-made journeys allow you the freedom to travel with a guide in privacy and on your own schedule.
We will help you design your own handcrafted journey, or customize an existing Peru Cultural Journey itinerary. With a minimum of 2 travelers Peru Cultural Journeys will weave your trip. This way of traveling offers the benefit of complete flexibility and the assurance of a personalized service with every detail arranged with care. Receive personalized, special treatment at Peru's most appealing destinations.
Imagine a Peruvian cuisine exploration with hands – on cooking, or delving into a cross – generational adventure enhancing strong family connections. From artistic expressions & archaeology, to astronomy and traditional dance & music, we put them all together to create your dream trip to Peru.
Authentic Andean Journey
Authentic Andean Journey ~ 9 days / 8 nights
The Sacred Valley, Cusco & Machu Picchu
Send this page to a friend: Email this Page
Specific Tour Information Links: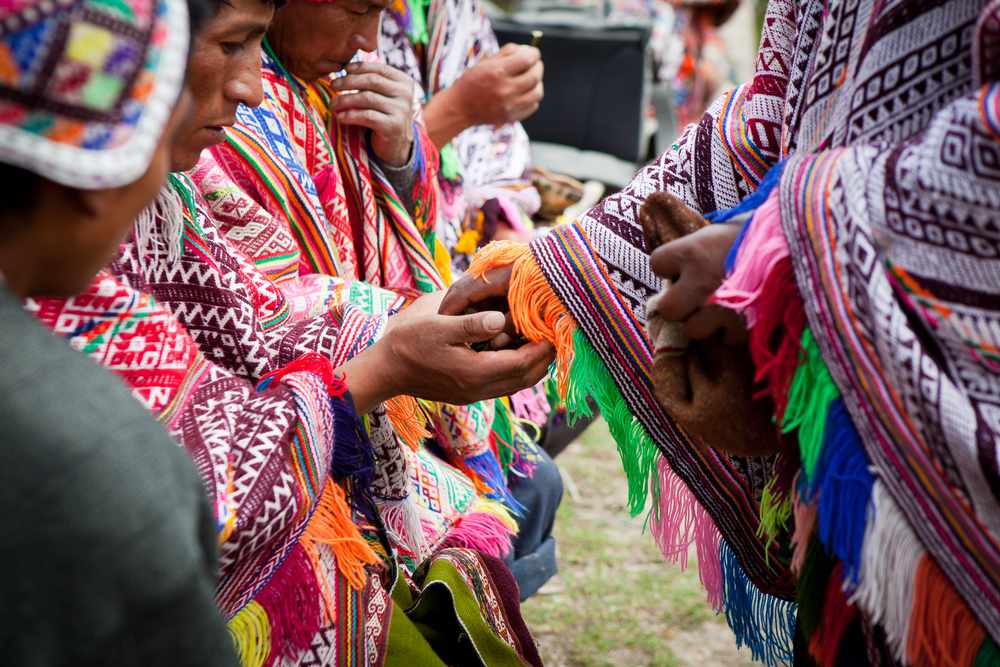 This authentic journey weaves classic destinations with unique cultural immersion experiences, affording authentic engagement in a cultured Indigenous point-of-view.
Savor the ambiance of the Sacred Valley, find yourself surrounded by breathtaking scenery and begin your exploration of the Inca legacy through our Quechua descendants. Visit ancient sites, colorful markets, and partake in an ancient living culture rooted in agriculture. Immerse yourself in the spirit of this Inca land. Discover the profoundly elegant simplicity of Andean people and celebrate our customs, cuisine, music and dance. Admire our arts. Delve into our philosophy; understand our history and way of life.

Walk our ancient pathways. Enrich your perspective. Confirm human quintessence.
Recommended for a profound unforgettable cultural immersion that enhances the spirit.
Sacred Valley Highlights