Peruvian Cuisine Journey ~ 9 days / 8 nights
The Sacred Valley, Cusco & Machu Picchu
Send this page to a friend: Email this Page
Specific Tour Information Links: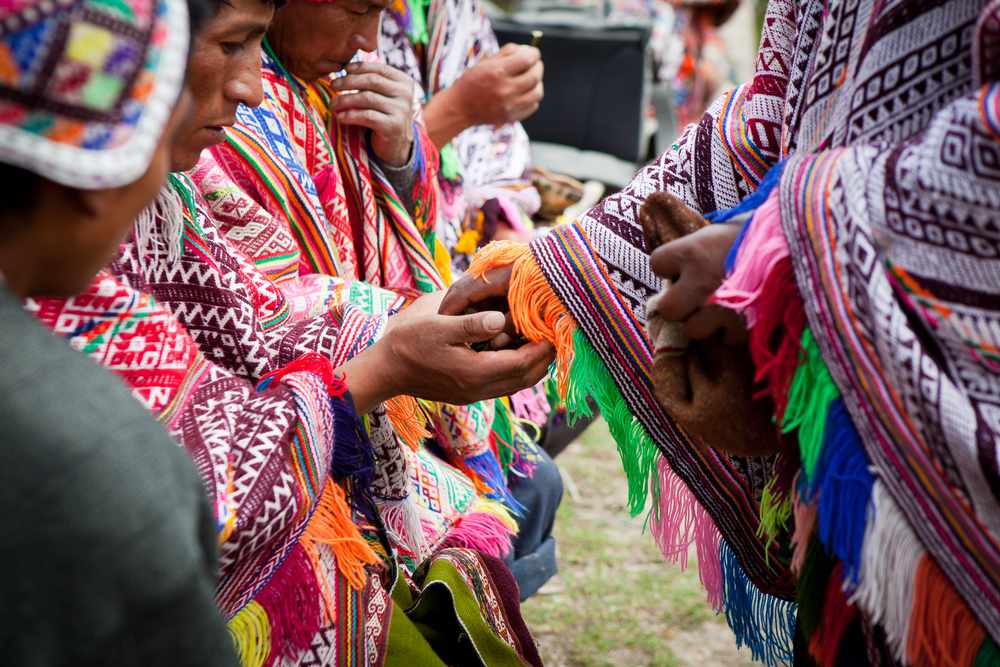 Celebrate the essence of Andean culture through the wealth of its legendary flavors, aromas and cuisine. Become intrigued by the cultural and agricultural origins of food. Purple potatoes. Exotic amaranth. Incan grain Quinoa. Explore the intrinsically agrarian Andean worldview through a native perspective—a culinary journey to the heart of food.
Guests are introduced to a thriving agrarian society that honors the diversity and abundance of Pachamama, Mother Universe.
"Food is truly the perfect way through which to discover the essence of Peruvian culture."
Andean culture is based on agriculture, and along with weaving and music, this is one of its greatest contributions to world civilization. All aspects of life—ritual, art, music and science—are tied to the sacred land and the bounty of its harvest. The region offers a dizzying array of maize, tubers, fruits and vegetables, nuts, herbs and spices, in addition to its beloved potato, of which there are literally thousands of varieties in various colors, shapes, textures and flavors.
Sacred Valley Highlights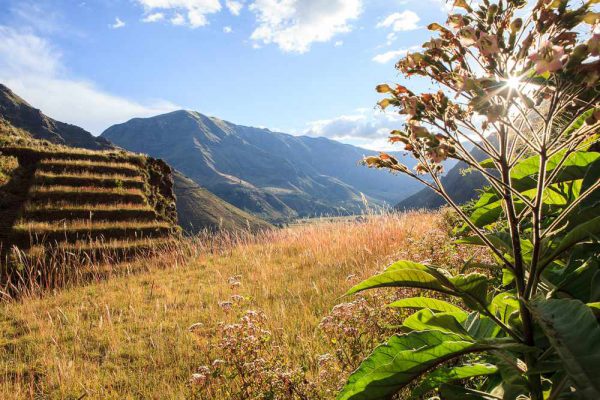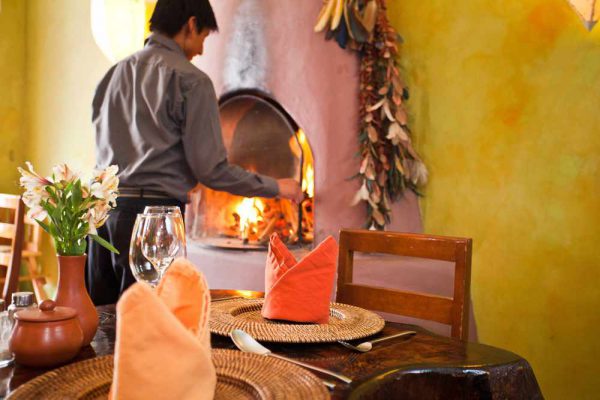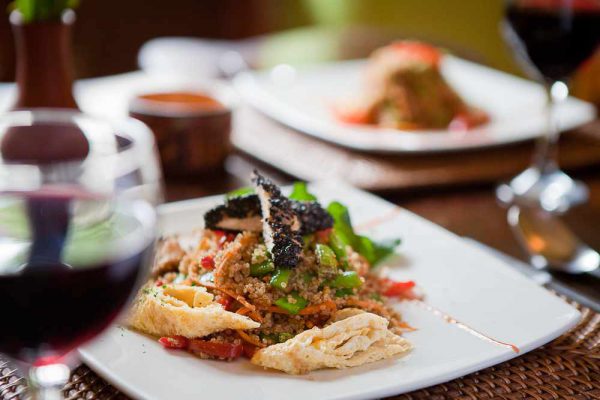 Trip Highlights:
Engage in this rare opportunity for authentic social interaction, personal comfort and creative culinary participation while visiting rural Peru.
Experience the Sacred Valley of the Incas stepping back in time, visiting its finest archeological sites, picturesque villages and colorful markets.
Savor exquisite Peruvian cuisine
Stay at Pisac Inn; settle into your room in the quaint town of Pisac for the duration of your stay. No packing and unpacking allowing true interaction to evolve.
Visit a traditional community and participate in their communal workday ~ a cultural exchange that deepens the appreciation of Quechua history and social life.
Marvel at Machu Picchu, one of the new 7 wonders
Explore Cusco, capital of the vast Inca State, navel of the ancestral world
Join in our commitment in the diffusion, protection and celebration of the endangered Andean traditions and cultural heritage. Traveling with PCJ directly supports this cultural work.
Shop in the local produce markets, see how food is grown and cook side by side with the best cooks in the area – the women who have learned their skills from their ancestors.
Experience a perfect balance of sight seeing, food preparation and related activities.
Receive a gift booklet of recipes and bag of cooking goods.
Enrich your life. Expand your horizons.
Andean culture is based on agriculture; it is one of its greatest accomplishments. Along with weaving and music, agricultural diversity stands as an invaluable treasure of the region. It is a culture that was and continues to be dedicated to agriculture– to food, fertility and the abundance of Pachamama, or Mother-Universe. All aspects of life—ritual, art, music, and science—are interconnected to work with and for the cultivation of agricultural bounty. Come, learn about and participate in these ancient agrarian practices—all connected to the sacred harvest. Upon arrival to the Cusco airport Roman greets you, and from that moment the Andean world vision is slowly and magically revealed through a very thoughtful itinerary of exploring archeological sites, visiting a traditional community and listening to authentic music and dance—and of course tasting and preparing exciting new flavors.
This is an opportunity to cook side by side with local people, learn the secrets of traditional cooking with true flavors and recipes. Learn to prepare these meals with women who cook for their families,who sell food in the market place who have learned their cuisine from mothers and grandmothers.Experience the authentic flavors, with the home-style cooks of Peru, the ones who keep the culture alive in their kitchens. The cooking classes will be held in Pisac Inn's kitchen. The cooking will be a social moment, learning hands-on with an array of guest cooks. This is not a credit course, so it will be relaxed and fun! Just a wonderful way to delve into the essence of Peruvian cuisine and culture. The day up in the traditional community Amaru will provide the opportunity to participate in the daily life of a thriving agrarian society. We will help plant, harvest, plow whatever is happening that time of year and that specific day, and in this way be a part of the whole cycle involved in the preparation of a meal. We will also help cook, either peeling potatoes their way (no potato peeler!) or sorting fava beans—and see a traditional kitchen in full swing! No fancy frill of extravagant cuisine here. Rather: the down-to-earth, clean flavors, diverse varieties and perfectly fresh ingredients come together to make these exquisite dishes—with no need to dress them up. Because we feel that one can truly experience a different culture through the flavors and aromas of its traditional beloved recipes this Peruvian Culinary Tour is an excellent way to delve into this agrarian culture and learn hands- on about the subtle richness and wisdoms revealed through the wealth of its cuisine.
View Itinerary
Peruvian Cuisine Sample Itinerary
Day one / Friday
Arrival Sacred Valley
Friday arrival at the airport in Cusco is followed by a scenic drive to the Sacred Valley of the Incas and Pisac Inn. In the afternoon, guests can rest or acclimate themselves to the 10,000-ft. altitude by exploring the cobblestone streets of Pisac. Welcoming dinner.
Sacred Valley Highlights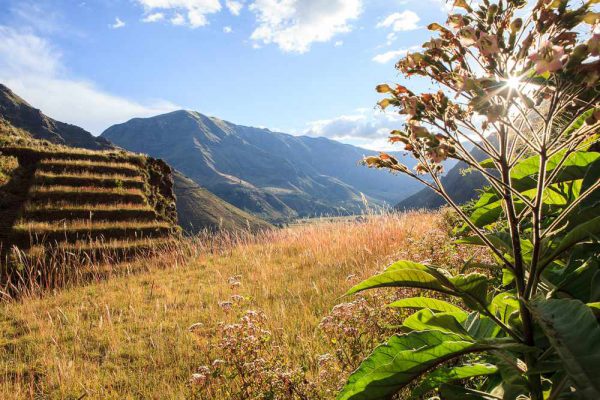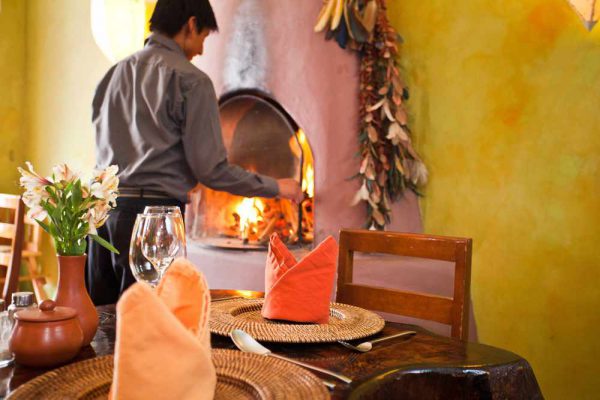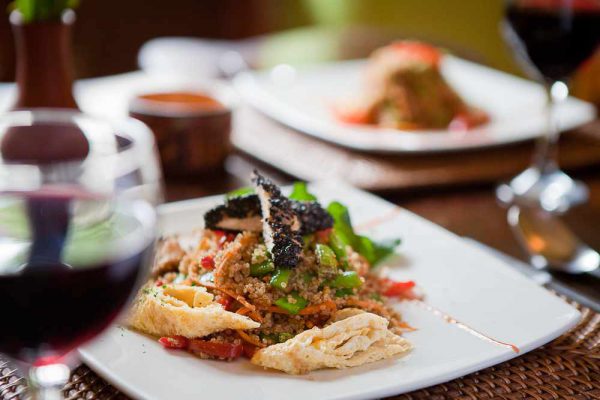 ---
Day two / Saturday
Cusco Archeological Sites
Saturday guests take a leisurely drive to visit the ancient baths of Tambomachay, the temple of Kenko, and the astronomic calendar of Sacsayhuaman. After lunch in Cusco, they have their first cooking event at Pisac Inn. Evening traditional music and dance presentation by Wiñay Taki.
Cusco City and Archaeological Highlights
---
Day three / Sunday
Pisac Market
Sunday is a shopping day at Pisac's traditional market as guests experience how the beautiful faces and calm excitement transform the colorful plaza. It's a wonderful opportunity to buy textiles, ceramics and jewelry. The produce market supplies the fresh ingredients to be used in the afternoon cooking event at Pisac Inn.
---
Day four / Monday
Ollantaytambo
Monday includes a visit to the archeological sites and vibrant Inca town of Ollantaytambo with a lunch out before an afternoon cooking class at Pisac Inn.
Ollantaytambo Highlights
---
Day five / Tuesday
Pisac Archeological Site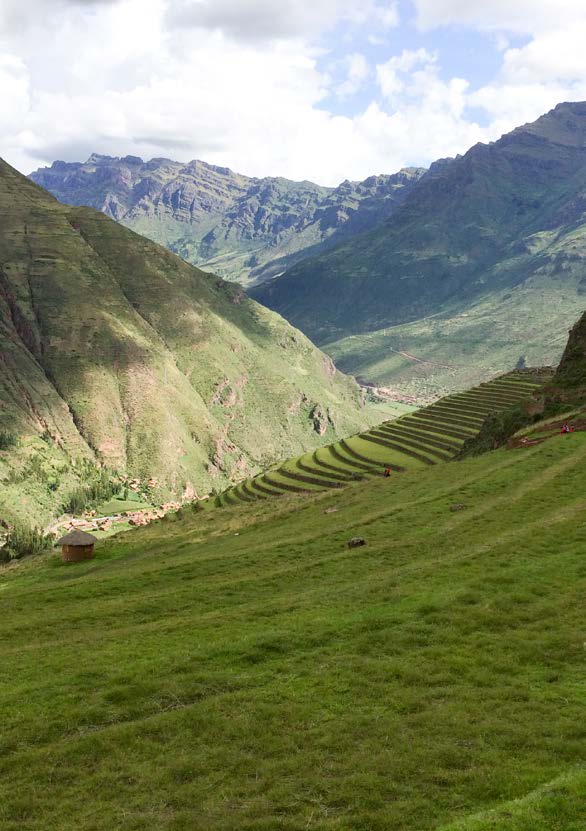 Tuesday guests walk or drive to the Pisac archeological sites that sit high above the village to explore agricultural terraces and ceremonial sites. In the late afternoon, the Inn hosts a cooking class and herbal garden tour in the neighboring town of Taray.
Pisac Highlights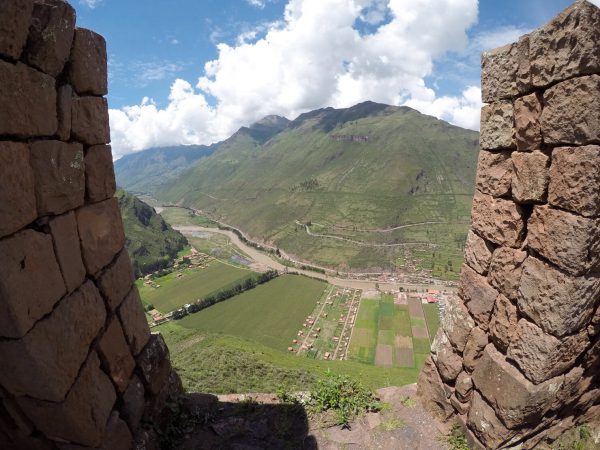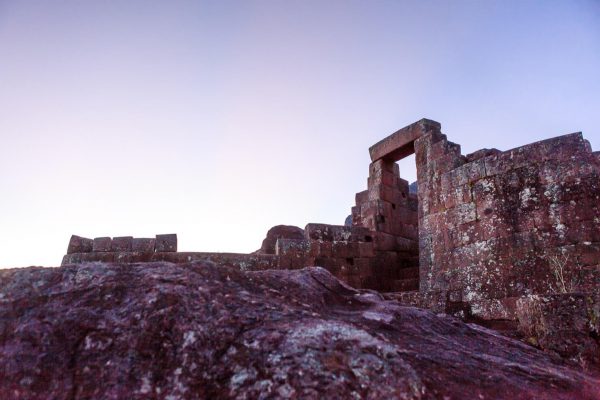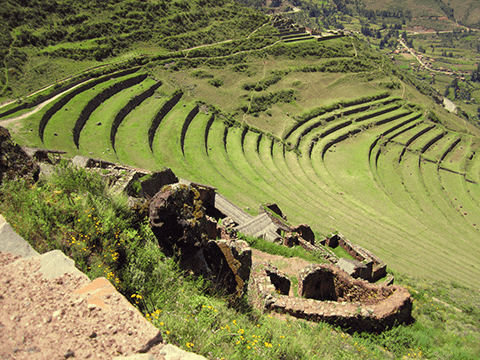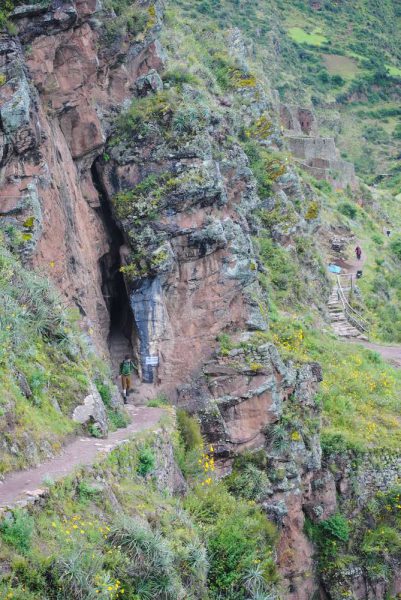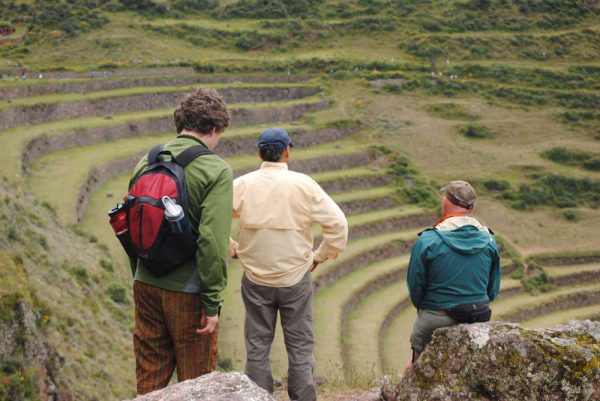 ---
Day six / Wednesday
Community of Amaru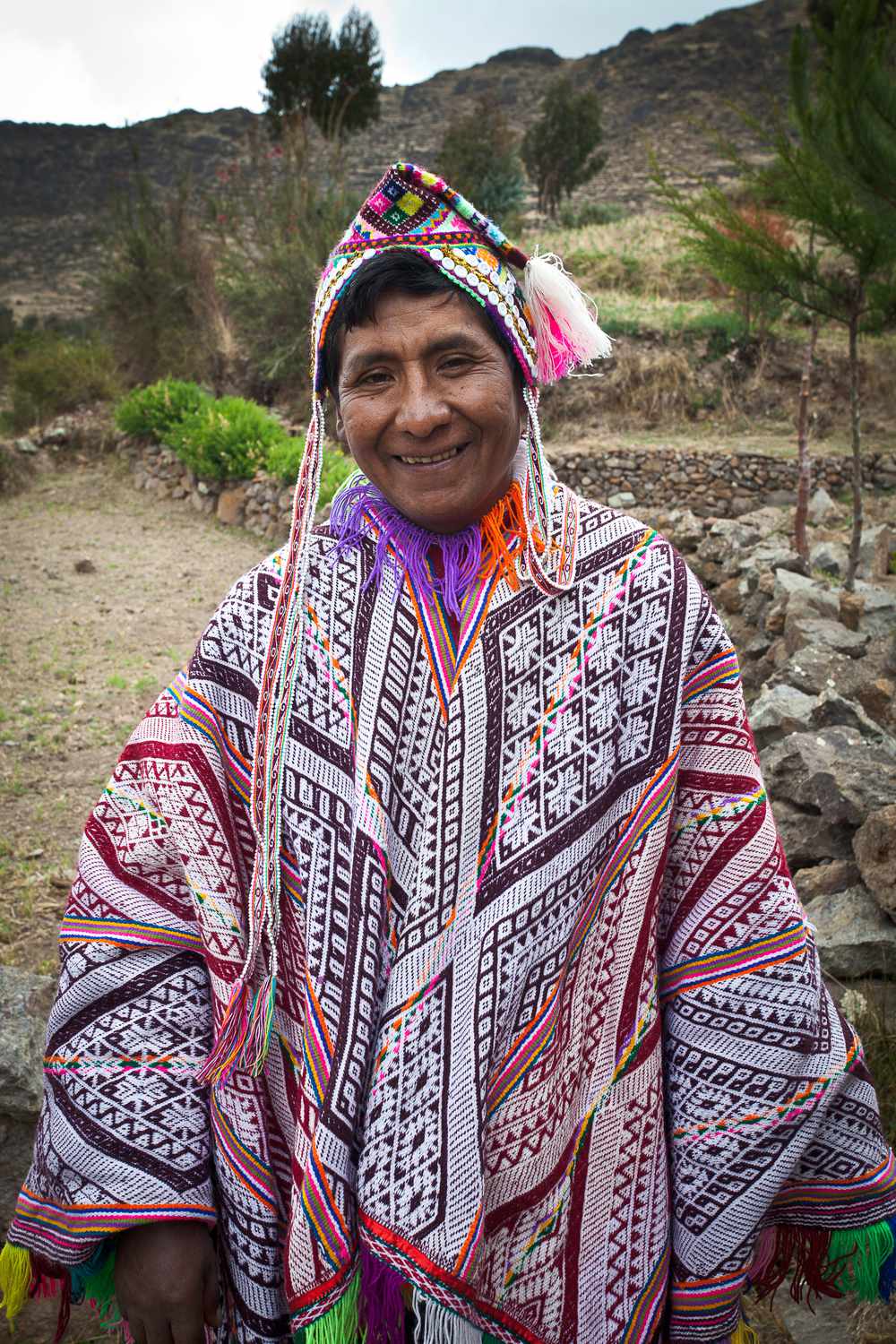 Wednesday guests enjoy a scenic drive high into the Andes to the traditional community of Amaru. Here they participate in a communal workday and assist with preparing a light, traditional lunch. Also included are weaving demonstrations with the opportunity to purchase textiles directly from the weavers.
Amaru Community Highlights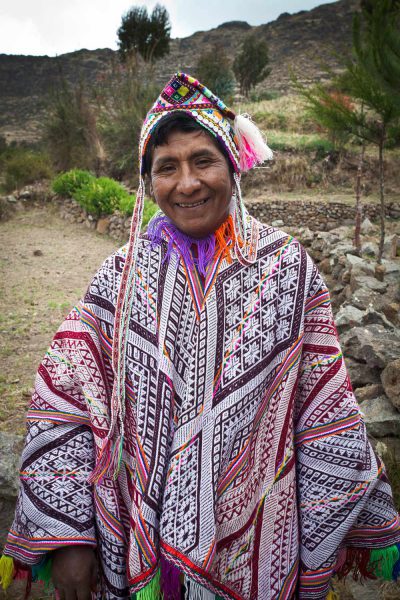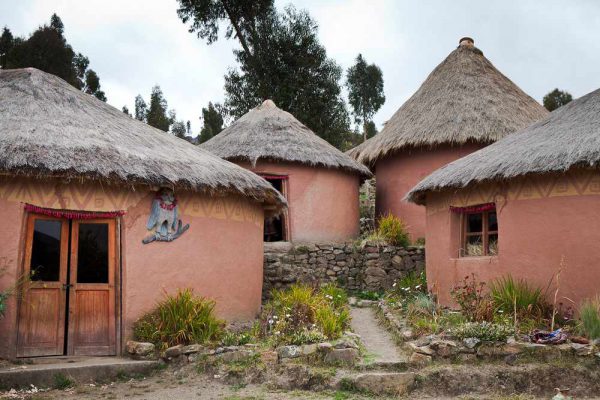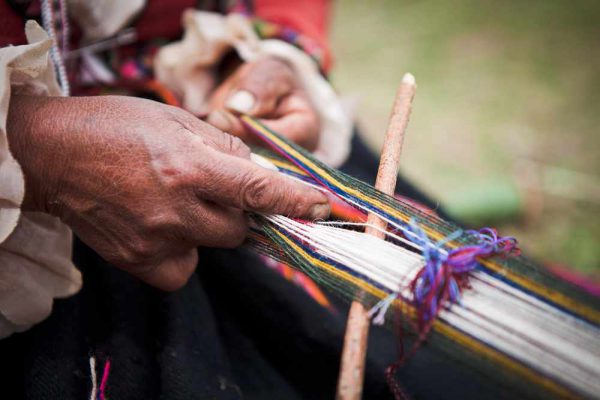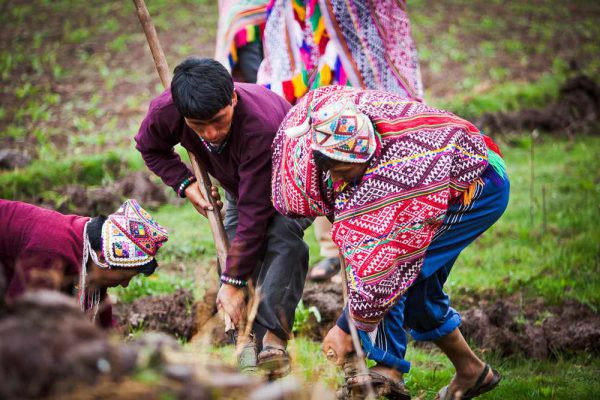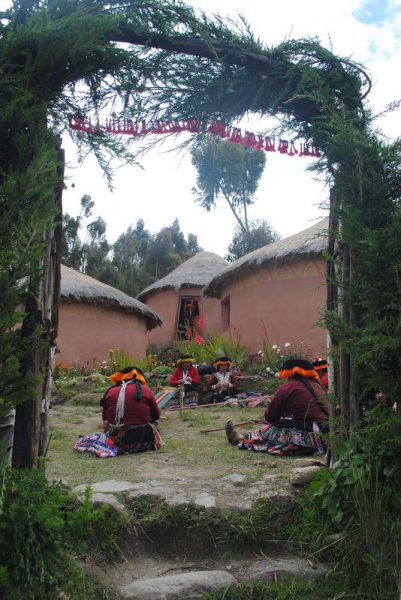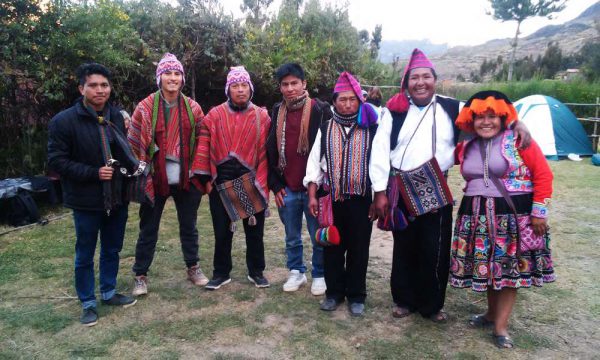 ---
Day seven / Thursday
Machu Picchu
Thursday there is an early start for a daytrip to Machu Picchu. From Ollantaytambo guests enjoy the spectacular train ride and day spent exploring the ruins.
Machu Picchu Highlights
---
Day eight / Friday
Cusco City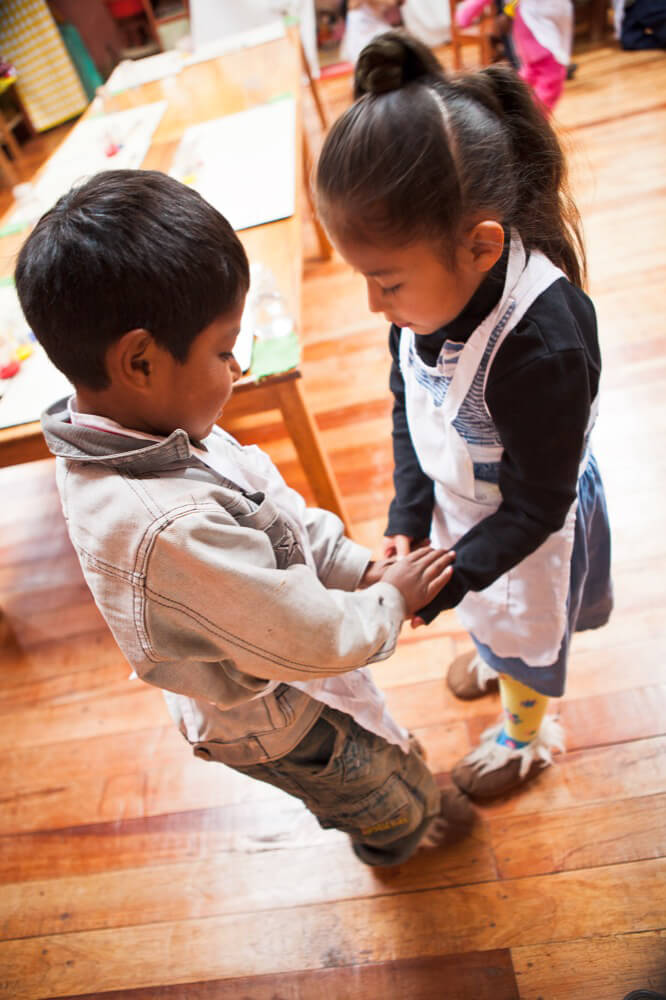 Friday is for a walking tour through Cusco and visit to the main pre-Colombian Inca Temple, Coricancha, and the Plaza de Armas. Lunch out in Cusco. A few free hours for shopping or a museum visit. Late afternoon cooking class at Pisac Inn. Farewell dinner.
Cusco City and Archaeological Highlights
---
Day nine / Saturday
Departure

Saturday, after breakfast, guests depart for the airport in Cusco.
The order of your itinerary will change depending on the day you arrive.
Useful Information
Useful Information
Destinations: the Sacred Valley, Cusco & Machu Picchu
Description: High altitude, mountainous terrain. Easy driving tours & day hikes
Altitudes: Cusco 11,200 ft, Pisac 10,000 ft, Machu Picchu 7,500 ft, Amaru 10,500 ft
Length: 9 Days / 8 Nights
Difficulty: Easygoing / Moderate
Sample Recipes
Quinoa Soup
2 cups of quinoa, selected and rinsed
10 cups of water
One large onion, chopped
4 cloves of garlic, minced
One tomato, chopped
Cup celery, finely diced
3 tablespoons cooking oil
A dash of cumin
10 potatoes, peeled and cubed
1 cup shelled fava beans
1 cup of carrots, sliced
1 cup of spinach
½ cup cream
2 eggs
½ cup farmer's cheese, cubed
Garnish with chopped cilantro, oregano and/or parsley
Sauté onion, garlic, tomato, and cumin in oil. Add water. Add quinoa before water boils. Do not add salt until end so that the quinoa may cook properly. Cover and cook for half an hour, or until the quinoa has opened. Add the potatoes, fava beans, carrots, and spinach. Cover and cook until tender. To serve, add one egg at a time, stirring quickly to break up as they cook. Add the cream, and the cheese. Sprinkle with chopped cilantro, oregano and/or parsley. Serve.
Seco de Cordero (Cilantro Pesto Lamb Stew)
Traditional Lamb Stew – Serves 10
4 pounds lean lamb stew meat, cut into 4 inch pieces
5 cups of cilantro
5 carrots
1 cup of peas
3 onions, diced
10 cloves of garlic, minced
1 yellow chili pepper
Salt & pepper
1 tablespoon cumin
Put salt and pepper on the lamb, and lightly fry the meat.
Sauté the onion, garlic and cumin in oil in a stew pot.
Remove the cilantro leaves from the stems. Remove stems and seeds from the chilies and cut them in large pieces. Blend the cilantro and chili pepper. Place in pan with the sautéed onion, garlic and cumin, and simmer for about 3 minutes.
Add the meat, and add water to cover the meat. Cook until the meat is tender.
Meanwhile, peel the carrots and cut into diagonal thin rounds. Shell the peas. Add carrots and peas to the pot. Cook until done.
Serve with rice and potato.
Chicha Morada (Purple Corn Drink)
A very typical drink enjoyed every day.
3 ears of purple corn
One stick of cinnamon
Fig leaf
Quince pieces, if available
One slice of pineapple
Skin of pineapple
6 cups of water
Lime juice
Sugar
Take kernels off of cob, and place into a large pot with all of the ingredients and boil for half an hour. Let cool. Chill. Add lime juice and sugar to taste.
Prices
Prices
Starting from $2,100 per person
Private and customized prices upon request
Included:
All ground transportation upon arrival to Cusco airport in a private tourist level vehical
Private, specialized, professional English speaking native guides who accompanies you for your whole stay
Entrance fees to all historical sites on daily excursions
Machu Picchu: Touriust class train (Ollantaytambo Aguas Calientes – Ollantaytambo), bus (Aguas Calientes – Machu Picchu – Aguas Calientes), entrance fee to Machu Picchu, overnight in Aguas Calientes
Fresh, organic meals celebrating Peruvian cuisine in daily set menus especially planned (vegetarian available)
Charming accommodations
Four hand on cooking events and two local marektplace shopping events
Special events with local andean specialists
Not Included:
Airfare
Travel insurance
Personal expenses
Any tips or donations
Meals eaten out as indicated in program
Any snacks or beverages not included at mealtime
* The cost of our tour is in U.S. dollars per person.
* Group sizes: minimum 3, maximum 12 passengers
* Prices per person based on double occupancy – single supplement available.
* Taxes may apply
* Programs and prices are subject to change and availability.
* Not applicable on some dates/holiday season
We specialize in weaving our journeys for travelers, therefore we do not have set dates. Please contact us directly to check availability.